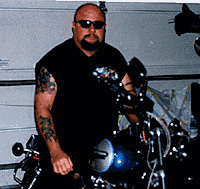 This is my home page, about me; who I am, my life, my home, my friends, and my career. I hope you'll enjoy your visit. Don't forget to let me know you were here, and sign my guestbook.
Be sure to see my pics. A few are on my bio and more of my bikes and friends are on the photos page.
All pictures on my pages can be clicked on to see the full size.

Favorite Links


Harley Related Links
Here are a few of my favorite links. There are more on my Free Links Page, please feel free to add your link!


BABEonHDs Harley Page - A site for bikers with free graphics, classifieds, biker personals, an events calendar and more. A must see.
Chicago Motorcycles Rider's Guide - Great info for the Chicago area.
Harley-Davidson - Official Harley Davidson Website
Harley-Davidson---Biking Dutchman's Harley Site - Great pics, links, restoration pics and log, t-shirt pics, and much more.
Duckman's Bitchin' Biker Page - Bitchin!
Loon's World ~~~CHOPPERS RULE~~~
Staz's Nevada Indian Motorcycles
Babes Free Graphics for your Hawg pages - Free HD related graphics for your webpages.
Abigail's Biker Babes - Cool dolls dressed like bikers, these are great!
Harley Mom's Extravaganza - Awesome site by Harley Mom
Southwest Scooter News - Motorcycling publication with articles and editorials dealing with everything from legislation and events coverage (with terrific pics), to racing and traveling news. You'll also find fiction, humor and a large events calendar.


Other Favorites
The Official Home Page of the Grateful Dead
Kraig Kenning & Company - Original Roots Rock - Electric Folk, Pop, Blues
Welcome to Illinois Department of Natural Resources Home Page!
BABEonHDs MIA/POW Page - They are NOT forgotten.
Silverhawks Native American Graphics

Credos
Don't fear tomorrow, for God is already there.

Jesus, ... don't leave this world without him. (Hwy. 50 roadsign, outside Lake Geneva, WI)